Concept
You will come across a variety of people and cultures from all over the world.
A brand new chapter of experiences awaits as you journey through this island's unique history.
MB GALLERY CHATAN will be your starting point as you tour and visit the surrounding sites and experience invigorating music, fine art, and lifelong memories.
You'll be thrilled by new discoveries and surprises while taking comfort from our Omotenashi (Hospitality).
Enjoy an experience you can only find here.
Prologue
An American pilot discovered the brightly shining crescent-shaped beach during his night flight.
He named it "Moon Beach" by virtue of its breathtaking beauty.
Hotel Moon Beach opened on this beach in 1975 and thus the history of Okinawa beach resorts began.
Since then, many resort hotels have opened along the west coast.
In 1997, The Busena Terrace opened.
The open air vistas and seating throughout the hotel is a spiritual heritage to the Hotel Moon Beach which is the origin of Okinawa resorts.
The Busena Terrace has led the growth of Okinawan brand hotels and welcomes people from all over the world with a special gratitude unique to the Ryukyus.
Both Moon Hotels and Resorts and The Terrace Hotels has contributed to the development of the Okinawa resorts.
Now, they've joined together to open MB GALLERY CHATAN BY THE TERRACE HOTELS which is a new hotel brand.
The "GALLERY" name is meant to invoke the image of a cloister, with MB GALLERY CHATAN BY THE TERRACE HOTELS, originated in Okinawa, being the starting point as you tour and visit the surrounding sites.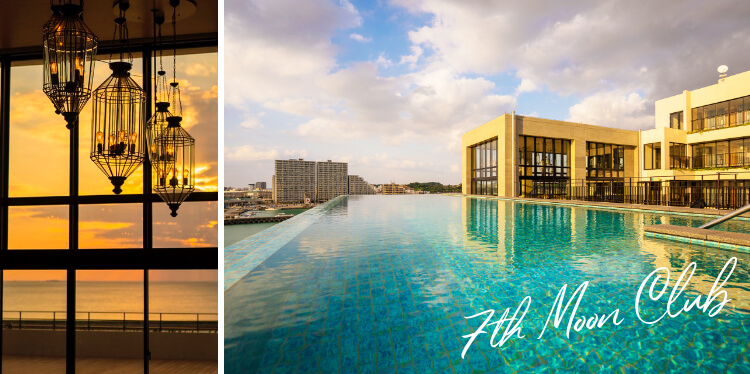 Club Lounge
The 7th Moon Club, located on the 7th floor is a lounge exclusive for the hotel guests. Breakfast and other privileged services at sunset are provided there. The view from the roof top pool is magnificent.
Guest Rooms
Most of the guest rooms are larger than 50 square meters. With plenty of space and comfort it will feel like coming home.
Cafe Lounge
Marina Bay Café & Lounge is available to all and connects Chatan town to the hotel. This is the living room of Chatan town where guests and locals come together to interlace with one another.
Bakery
Delicious homemade breads are baked fresh daily.
THE TERRACE BAKERY
With their own baking facility, you can always enjoy fresh baked bread at THE TERRACE BAKERY. Indoor seating available for lunch hours. *Located outside the hotel.
Restaurant Cheers!
Enjoy the beautiful sunset and ocean with tasteful craft beer.
CHATAN HARBOR
BREWERY & RESTAURANT
CHATAN HARBOR BREWERY & RESTAURANT with its own brewing facility. Our cuisine is made to be paired with our original craft beers. *Located outside the hotel.
Restaurant
Enjoy seafood cuisine made fresh with local ingredients.
SEAFOOD HOUSE PIER 54
SEAFOOD HOUSE PIER 54 serves you California style seafood cuisine enhanced with Okinawan flavors and various wines. *Located outside the hotel.
Experience
Experience a refreshing cruise on the Okinawan ocean!
TERRACE OCEAN'S CLUB
TERRACE OCEAN'S CLUB located next to the hotel offers a variety of chartered cruises. Beauty, excitement and BBQ await you on our cruise to the Kerama Islands! *Located outside the hotel.
Amusements
Exhaust yourself with the wonders of our ocean and our cities.
30 mins. from Naha airport, Chatan Fisherina District continues to transform itself.
This area and American Village is the comprehensive waterfront area of the marina, shopping malls, entertainment centers and restaurants serving international cuisines.
MB GALLERY CHATAN BY THE TERRACE HOTELS at this location is not only filled with Okinawans, foreigners living in Okinawa, and tourists both domestic and foreign, but also creates and promotes a new Okinawan chanpuru culture.
Access
MB GALLERY CHATAN
BY THE TERRACE HOTELS
38-1 Mihama Chatan-cho, Nakagami-gun Okinawa, 904-0115 Japan
Access from Naha Airport
By Car
Approx. 40 min.
Approx. 15 min. from Okinawa South I.C. via Okinawa Expressway
Fee: Approx. JPY420 from Naha to Okinawa South I.C.
By Airport Limousine Bus
Approx. 75 min.
Ride the bus which departs Naha Airport from area A and disembark at "La'gent Hotel Okinawa Chatan". Approx. 1 min. walk.
Contact
Reservations or Contact by phone
Contact by email
Moon Hotels and Resorts

We offer a peaceful relaxing time, surrounded by nature to enhance your being.
The TERRACE HOTELS

To provide "Continuity with, and Connectivity to, Nature", we offer a unique resort life called "TERRACE STYLE". A sophisticated open space for adults.